The Poly Tunnel rather got away from us this year, it produced plenty of crops for us including early potatoes, onions, peas, beans, celery and squashes, strawberries, lots of tomatoes, all the herbs we could ever need and we now have Cape Gooseberries. Along with this abundance came the weeds so that the area looked more like a jungle than a food growing area, there was so much excess growth a tiger could have been hiding (if we had tigers in Ireland) and we would have been none the wiser. It was time to attack and have a rethink about weed control. Most of the weed had originated from the pathways which we had used various coverings on, from straw which is supposed to deplete nitrogen, to shredded bark, but the weeds still broke through, I should add that we had used this so called weed control membrane as a base. Our conclusion on that is unless you use glyphosate before laying the membrane down it does not work, for us using chemicals of any kind is unthinkable, let alone anything remotely connected to Monsatan, sorry, Monsanto.
What we do seem to accumulate is heavy duty plastic sacks which our wheat and oats come in. Our current helper attacked the pathways and did a great job clearing the weeds,
New pathways, Cauliflowers plantlets, and Cape Gooseberries.
Simon has now put to use the plastic sacks, and they have been covered with a fine gravel, even the dreaded mares tail, Equisetales will have to work hard to break through this.
Our tunnel is laid out with raised beds as have all our previous tunnels, we do this for several reasons, firstly it is far easier to work and build up soil fertility if the bed is confined, to us it makes no sense to build up fertility on something which might be walked on, we keep the beds at a width that can be worked from both sides, no point in getting the soil into good condition if it has to be walked on to plant, it also makes rotation very easy. Next years planting have now been started in the tunnel, so far winter cauliflowers have been planted, rather held back I'm afraid in modules waiting for some time to be planted out, hopefully they will produce for us. The garlic is also planted, once the tomatoes have finished cropping they will be replaced by onions which we have found no matter where we are living do better in a tunnel than outside.
Strawberries have to be sorted.
The celery will remain in situ and picked as needed, again it has done far better under cover than the celery outside. Cape gooseberries should keep producing until Christmas, I will then cut them back and transplant into another bed as I have found that they will come back for a second year when treated this way. The one thing that we have to sort out are the strawberry plants, I'm not sure where they are going to be moved to, I have two different types I want to keep these under cover as they produce early and late crops but they also take up a lot of space. We also have an outdoor old variety Cambridge Favourite which were newly planted this year.
Although we are still picking tomatoes and squashes
the winter veg are now coming into their own.
In Spain our Parsnips were always an embarrassment to us, they were so big and had to be mined out of the ground,
A modest Parsnip, just the right size.
here they are a more moderate size, here it is the Carrots, the ones we have pulled so far have all had roots more than a foot long and weigh in at over a lb each, we have planted three different types and they have all produced tremendous roots, clearly they like our soil. Our Swede has also done well
These turnips have changed my mind about this veg.
and the very late planted Turnips, this is a crop that we have not grown before and only did so as an after thought as a stew needs turnips in it to give a good balanced flavour, these Turnips don't taste like ones I have used before, which I have always found rather bitter, these have a mild and sweet flavour to them, maybe it's a crop that like Parsnips needs a little frost to bring out it's full potential. I might even try them as a straight veg and not a veg just for stews.
Last of the Romanesco Cauliflowers.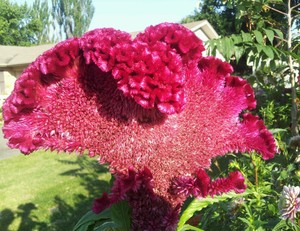 Cocks Comb Amaranth in full glory.
The outside cold frame is now filling up with seeds I have either saved myself or given to me by friends, these are all perennials or biannual,
Amaranth seedlings.
I am very thrilled to find that the Amaranth, Cocks Comb has germinated and that a small cutting of the
Scottish Flame Flower, Tropaeolum,
The first shoot of Tropaeolum has appeared.
has produced a small leaved shoot, such a beautiful plant, we will nurture it and find just the right spot for it.
The Hubbard birds have now reached the minimum date that they could be slaughtered , 84 days, we have however found that they are hard enough to get to a finishing weight despite increasing their food considerably, they are gaining just half a pound a week, 250 grams, the average weight at day 84 was 2.9 kg just under six and a half pounds so they have a reprieve for another couple of weeks. Cost wise we will not have gained much, we can buy an 3kg Organic oven ready chicken for sixteen euro, we haven't done an exact costing but it will be somewhere around the ten euro mark, this does not include bedding or our labour. If we do them again we will cut down the ranging area, we had doubled the Organic requirements, doing our self no favours. Still it is an interesting learning experience.